JAMES FOWLER D.C.
Dr. James Fowler and his wife, Dr. Barb, opened First Step Chiropractic in October of 2005 with the mission of providing an exceptional chiropractic experience to as many people as possible! Since that time Dr. Fowler has helped almost 12,000 patients live a happier, healthier life without drugs or surgery.
Dr. Fowler takes first-class care of each and every patient and the staff bends over backward to ensure each and every patient is their number one priority. Dr. Fowler does a thorough health history, chiropractic examination, precise, structural X-rays, and a personalized report of findings to determine EXACTLY what is going on and whether it is a chiropractic issue.
From there, if Dr. Fowler accepts your case he lays out a comprehensive plan to work WITH you and help each patient achieve maximum results and reach their full health potential.
---
Education & Background
Dr. Fowler completed his bachelor's degree at Eastern Michigan University.  He graduated from the honors program, magna cum laude.
Dr. Fowler then attended and graduated from the prestigious Parker College of Chiropractic in Dallas, TX, and served as the President of the Neurology and the Nutrition Club. He is trained in more than 9 different chiropractic techniques and has the honor of taking care of day-old infants, competitive athletes, and everyone in between.
Dr. Fowler utilizes the arthrostim and vibrocussor instruments as well as manual and table-assisted adjusting. He ensures that adjustments are tailored to each patient's personal preference and treatment needs.
Since 2005 First Step Chiropractic has grown to a 2000 square feet facility with on-site state-of-the-art equipment including digital x-ray, a touch screen paperless patient note system, and vibration posture-based rehab technology. We also offer a full line of nutritional supplements from Standard Process and chiropractic blends.
Since graduating Dr. Fowler has been a coach for other Chiropractors wanting to learn best practices and also speaks around the county on training for Chiropractors and their office staff.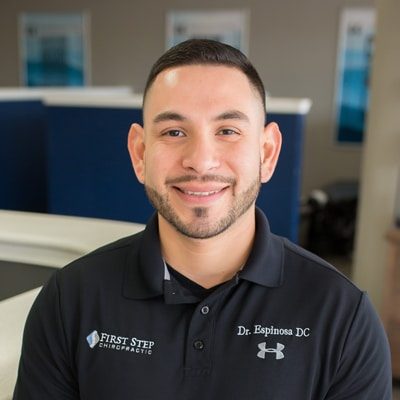 Chiropractor
Juan Espinosa D.C.
Dr. Espinosa was born in Rosenberg, TX. He has a BS in Biomedical Science with an emphasis in Microbiology from Texas A&M-Corpus Christi and obtained his Doctorate of Chiropractic from Parker University. Dr. E also works with vertigo by performing Epley's Maneuver and specializes in muscle work by doing myofascial release and Gusha technique. "I love to spend time with my big family. I like to cheer on my Philadelphia Eagles!! Dr. Espinosa is also bilingual!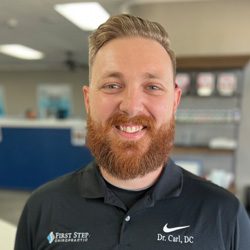 Chiropractor
Carl Shaffstal D.C.
Dr. Carl is from Houston, TX. He graduated from Parker University in August of 2021. In his free time, you can find him in the kitchen since he enjoys cooking or driving around town with his fiance as they try out new restaurants and breweries. He also went to Texas A&M for his undergraduate in Kinesiology. Gig 'em! He's excited to be part of team First Step Chiropractic and helping patients take back their health!
OFFICE HOURS
---
Monday
7:00am - 11:30am
2:30pm - 6:15pm
---
Tuesday
2:30pm - 6:15pm
---
Wednesday
7:00am - 11:30am
2:30pm - 6:15pm
---
Thursday
7:00am - 11:30am
2:30pm - 6:15pm
---
Friday
7:00am - 11:30am
---
Saturday
9:00am - 11:30am
Current Patients
By Appointment
---
Sunday
Closed